Low-mu preamp (from AudioXpress 2/04)
This is a preamp I designed using a low-mu power triode (7236, 5998, 6AS7, etc.) with a pentode (EL34) CCS load.
Thanks to AudioXpress and Ed Dell, the full magazine article is now available for download!
"A Low-Mu triode Preamp" (LARGE 1.3MB PDF file)
Here's the schematic (33 kB PDF file)
Here's the mechanical layout as a AutoCAD DWG and DXF file (zipped). You can download DXF viewers and conversion programs from the net, just do a search.
Some more photos (click on the picture for a full-sized image):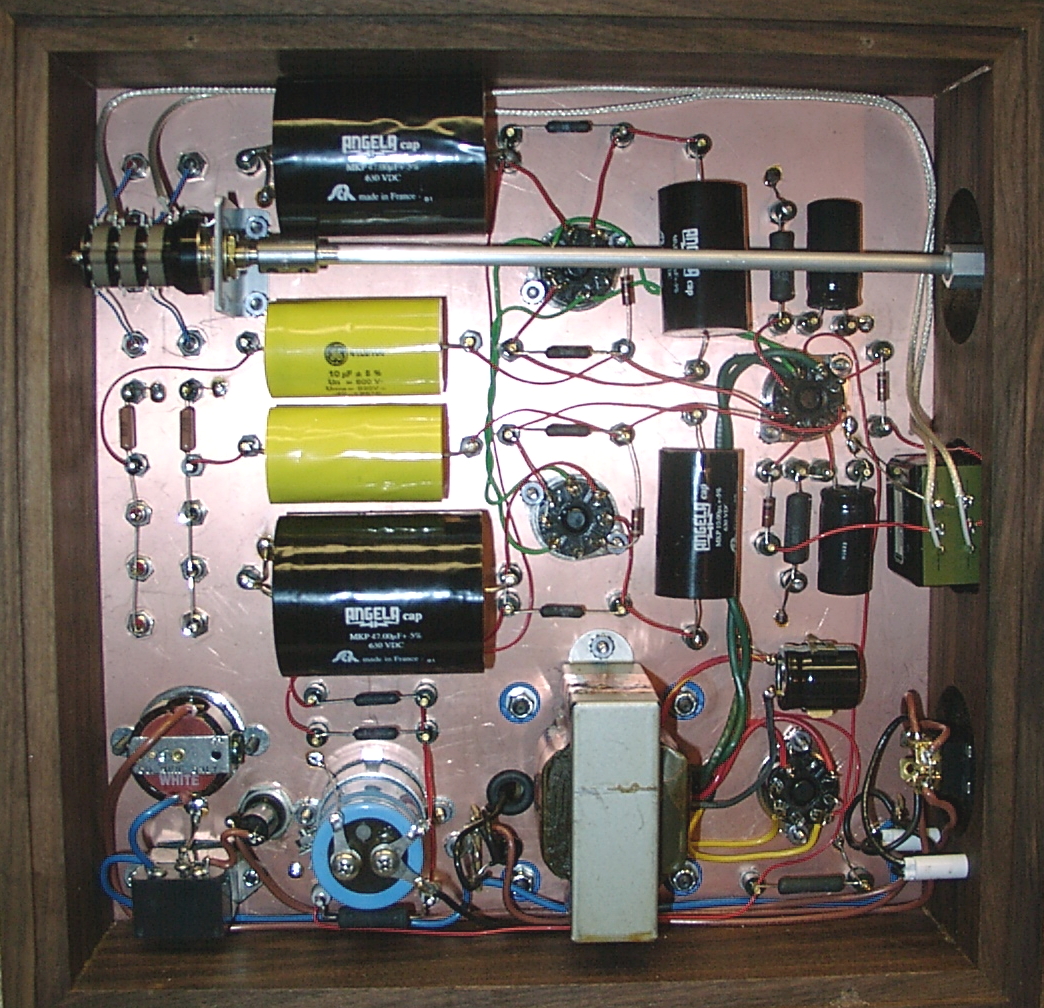 Parts sources:
McMaster-Carr – Stainless steel and Aluminum sheets, hardware, 3M high-performance transfer tape adhesive
www.mcmaster.com
Telephone (630) 833-0300
Cambion – Single-point terminals (like part number 572-4827-01-05-16)
Telephone (800) 947-1256
USECO Fasteners – Single-point terminals (like part number 1417)
Telephone (401) 461-5554
Specs:
7236 tube:
THD + noise (800Hz – 80kHz bandpass):
1kHz, 1V RMS out, 100k load 0.05%
20kHz, 1V RMS out, 100k load 0.06%
1kHz, 1V RMS out, 10k load 0.07%
20kHz, 1V RMS out, 10k load 0.07%
1kHz, 2V RMS out, 100k load 0.10%
20kHz, 2V RMS out, 100k load 0.10%
1kHz, 2V RMS out, 10k load 0.14%
20kHz, 2V RMS out, 10k load 0.13%
Frequency response (using 250k pot – see text):
2V RMS in, 1V RMS out, 100k load
20Hz: -0.09dB 20kHz: -0.45dB -3dB @ 65kHz
2V RMS in, 1V RMS out, 10k load
20Hz: -0.13dB 20kHz: -0.41dB -3dB @ 70kHz
2V RMS in, 2V RMS out, 100k load
20Hz: -0.06dB 20kHz: -0.95dB -3dB @ 40kHz
2V RMS in, 2V RMS out, 10k load
20Hz: -0.11dB 20kHz: -0.96dB -3dB @ 40kHz
Output impedance: 450 ohms
Noise: -55 dBV (mostly 60 Hz)
Voltage gain: 3.96
6AS7G tube:
THD + noise (800Hz – 80kHz bandpass):
1kHz, 1V RMS out, 100k load 0.15%
20kHz, 1V RMS out, 100k load 0.12%
1kHz, 1V RMS out, 10k load 0.16%
20kHz, 1V RMS out, 10k load 0.13%
1kHz, 2V RMS out, 100k load 0.18%
20kHz, 2V RMS out, 100k load 0.24%
1kHz, 2V RMS out, 10k load 0.33%
20kHz, 2V RMS out, 10k load 0.27%
Frequency response (using 250k pot – see text):
2V RMS in, 1V RMS out, 100k load
20Hz: -0.05dB 20kHz: -0.40dB -3dB @ 65kHz
2V RMS in, 1V RMS out, 10k load
20Hz: -0.11dB 20kHz: -0.43dB -3dB @ 65kHz
2V RMS in, 2V RMS out, 100k load
20Hz: -0.08dB 20kHz: -0.60dB -3dB @ 55kHz
2V RMS in, 2V RMS out, 10k load
20Hz: -0.12dB 20kHz: -0.56dB -3dB @ 55kHz
Output impedance: 324 ohms
Noise: -55 Dbv (mostly 60 Hz)
Voltage gain: 1.92